Over the past 25 years, CREON has grown from a one-man business to a well-established company with professionals who think in minute detail about 24-hour workstations for control rooms and dispatch rooms. Our slogan is 'in control' for a reason. Because that is what we are, and have been for 25 years. Together with Pieter Louwers, founder and former director of CREON, we look back on the history of this fine company. What is the story behind CREON?
Passion for design
After graduating in industrial design, Pieter Louwers started working at the small design agency Prodesign in Tilburg. This design agency made a variety of (technical) products, including furniture for dealing rooms. Dealing rooms can be found in banks and financial institutions and are staffed by currency and securities traders.
After realising a dealing room for Rabobank, the demand for similar workplaces increased, including control rooms. Prodesign grew larger, so Pieter was assigned more and more management positions. But his passion was in design and he found the diversity of products too big. Moreover, he had a great affinity with furniture design: calculating stability, the ergonomic aspect, design and the economic aspect. After some 5 years, it was decided by mutual agreement to separate the company in half; Pieter was going to specialise in workstations for dispatch and control rooms.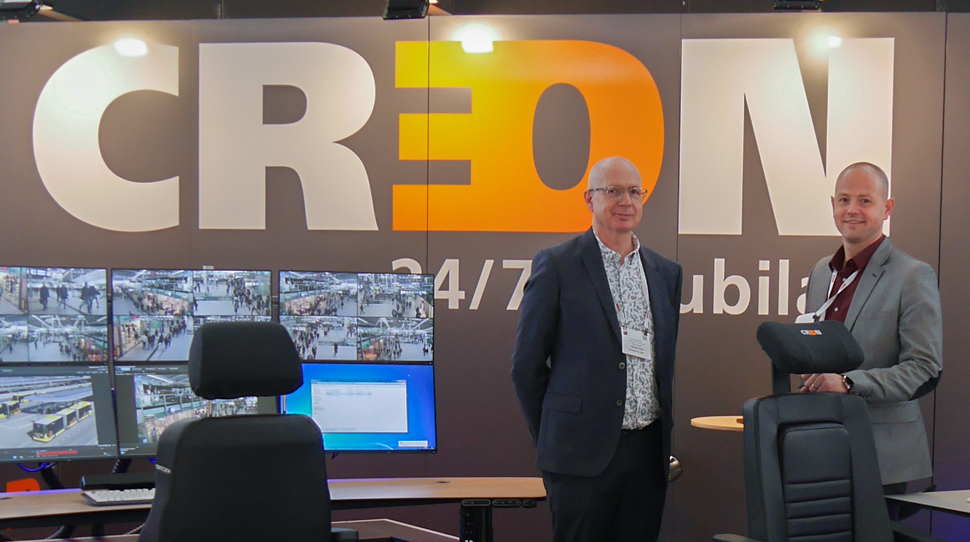 Pieter Louwers and Ralf Bogaerts at ASE 2017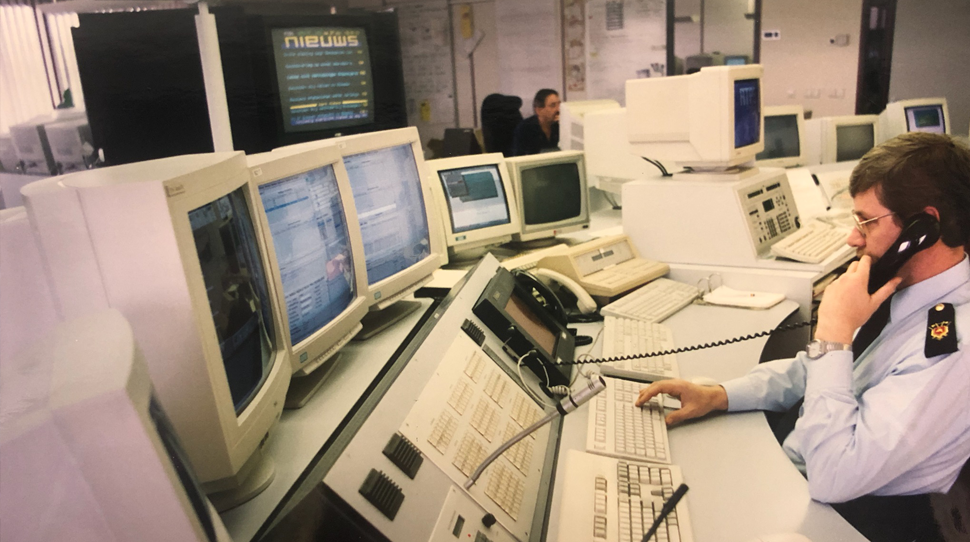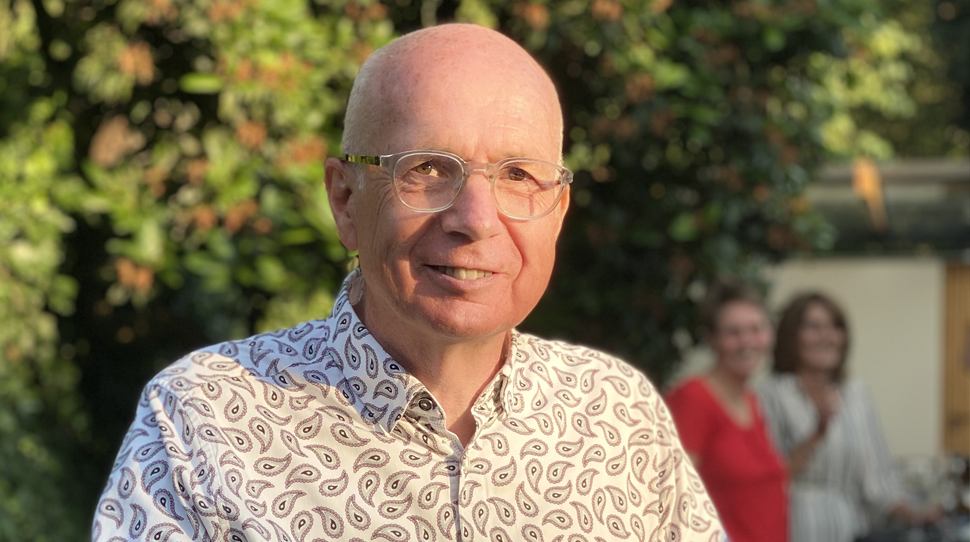 Pieter Louwers at farewell party, 2021
The invincible king
The new company had to have a name. The internet was emerging at breakneck speed in 1998, causing a battle for domain names. Pieter drew up a list of possible names.
"With all the names, I immediately looked up whether the domain name was still available. I wanted a short, concise name," Pieter recalls. He eventually chose the name 'CREON'. "Creon has several meanings. It is the name of an invincible king from Greek mythology. It also stands for CREative ONderneming (enterprise). But you can also think of it as short for 'Control Room Engineering and ONtwerp (design)'. Since the name is open to different interpretations, I thought it was a suitable name."
The early years
At metalworking company TBB in Gilze, Pieter rented an office. Besides design, he also took care of the realisation of furniture and products. His very first assignment was a furniture project for air traffic control in Indonesia. Pieter had the opportunity to fly to Indonesia twice in the run-up to the project. "It was a very special project, because the workstations were made, but never installed. After production, the furniture was assembled in the Netherlands in a large hall. The Indonesian project managers came here for assessment. After approval, the furniture was loaded into large crates and sent to Indonesia. At the same time, a change of president took place. That new president felt the new furniture for air traffic control was all unnecessary."
Pieter initially worked alone and hired external draftsmen and suppliers. "In one of the first years, I got a big order for about 80 workplaces. Everything went well, but the client had no idea I was doing it all on my own then!"
Quality control
In time, Pieter took on a colleague for administrative work. This was followed by Mark Bastiaansen joining as a designer. Due to the need for more office space, CREON moved to the Fax Building in Tilburg. There, the team was expanded with a new product designer, John Driessen. Thus, CREON's team grew steadily.
The production demand and assembly was done by the suppliers in the first few years. Everything was still custom-made; the workstation was designed from scratch and drawn out with all parts. "Because everything was drawn and made on project basis, it always was exciting after production whether everything was correct. At that time, there were no fancy 3D programmes. In the implementation phase, things occasionally went wrong, such as holes that didn't match, or that it didn't fit together properly." It was therefore decided to carry out the product inspection itself in the form of assembly. "After all, we wanted to ensure quality in order to deliver a product we would stand behind, exactly as the product was originally intended."
To manage all the processes, Ralf Bogaerts was hired as Operations Manager. In 2018, Pieter formed CREON's management team together with Mark, John and Ralf. Gradually, the day-to-day management was taken over by Mark, John and Ralf. In 2020, Pieter decided to hand over the baton completely, in order to do something new himself.
Special projects
22 years at CREON brings many great memories. "You visit very special places in this world that you don't get to as a 'normal mortal'. For example, I visited an organisation monitoring the ban on the use of chemical weapons, I worked behind the scenes at Schiphol Airport security and I visited Borsele in the storage of radioactive waste. And some projects were carried out far beyond national borders such as in Scotland, Morocco, Norway and Curaçao."
The 112 dispatch rooms made a big impression on Pieter: "While you're at work, the most terrible reports come in. Very impressive how the dispatchers deal with that."
The very best solutions
Innovation and the search for the perfect synergy between ergonomics, functionality, construction and design have been the common thread in CREON's designs since the beginning. According to Pieter, CREON's strength lies in its focus on design and vast experience: "Most control room furniture companies started from a production environment. At CREON, we first look at what is the best solution to a problem. How does the operator use the workstation and what equipment is needed for this? The equipment is integrated into the workstation so that it can be worked on optimally by the operator."
Only after the design is done, the materials are determined and who will make the workstation. This is because CREON is not tied to any machinery. "That gives enormous freedom to come up with the very best solutions for 24-hour working environments. Thanks to years of experience, CREON knows not only what is important, but also what doesn't work."
Workstations in 24-hour environments are used over three times more intensively than a normal workplace. "Everything has to be solid. Because anything that can break, will break. But design is not lost sight of: the tables are elegant and the cables are perfectly concealed," Pieter explains. "Every now and then I walk into CREON and I am proud to see what a beautiful company it has become in the end and how my successors are working in a special way to further expand it."